The XDF Assembly Movie
A time lapsed sequence showing the assembly of 10 years of Hubble ACS/WFC and WFC3/IR observations and over 3000 images used in creating the eXtreme Deep Field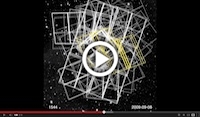 Download (43MB). A high resolution version with no music and full size (1520x1520) Download (163MB).
---
Finding Distant Galaxies
A short movie showing how the observed spectrum of star-forming galaxies changes as we observe it at higher and higher redshift. Redshift is denoted here in this movie as "z". Note how the break in the spectrum shifts to redder and redder wavelengths as a result of this redshifting effect. To be able to identify galaxies at the highest redshifts (and thus near the beginning of the universe), it is necessary to be able to measure the fluxes of sources at near-infrared wavelengths (>1 micron). High-redshift galaxies are frequently found by noting a significant break in the spectrum as seen through a set of discrete filters.